365 Connecting Questions for Couples
$ 15.99 USD
If you're interested in ordering 10+ books, please get in touch. 
Looking for an ebook? Click here.
Looking for this book in Spanish? Click here.
Looking for our book for engaged couples? Click here.
PS: During the Coronavirus pandemic, please expect delays in the processing of your order and subsequent delivery times. Thank you for your understanding!
Customer Reviews
Write a Review
Ask a Question
All marriages, no matter how good, can be made better!
10 years of marriage, 4 kids, several career changes, 6 house moves, becoming foster parents--> despite our crazy journey my husband and I are happy in our marriage, because we believe in preventative maintenance... enter 365 Connecting Questions for Couples! It's such a great, easy to implement tool to open up communication; even for couples who already feel they communicate well. We enjoy it so much, that we purchased it for all of our married siblings as well! Can't wait for 365 Connecting Questions for Families to come out as well!!!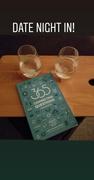 So much fun!
This book is fantastic. My husband and I have been married for two years and have an eleven month old. Our conversations quickly turned into talks about diapers and all things parenting, which left us both feeling disconnected. We finally decided we needed a boost and bought this book. We have talked about a few of the questions and they have led to amazing conversations and laughter. This book really helped us get out of the rut we got into balancing a new marriage with a new baby. I highly recommend it!
The perfect marriage book.
My husband and I got married when he was 19 & I was 18. We are hitting our one year anniversary in a few weeks & it's been a CRAZY year. We did ONE, just ONE question so far & we couldn't stop laughing & we just kept on talking. We've always been very close but I feel this book will make us even closer. He feels the same way and I couldn't be more thankful for this book! We look forward to answer all these questions. ❤️
The gift that keeps on giving.
I was so excited for Meygan and Casey's book to come out that I got one for my Husband and I and one for my friend who is to be married this year. After looking through all the questions and Conversation starters i knew it would be the perfect gift for young couples. It helped my 17 year marriage too. Sometimes we forget how just start a simple conversation that doesn't include work and kids. This is the answer for that. Loved it. Great bridal shower gift!!
09/24/2020
Criss G.
United States
Here awaits a great adventure
We are just getting started but love it so far. Looking forward more questions