365 Connecting Questions for Families
$ 11.99 $ 15.99
This book will change the way you connect with your children and the way you connect as a family. Recommended for families with children aged 6+.
This book includes: A question a day to ask your children that will get them talking, tips to draw out a shy child, bonus questions for blended families, a Parents' Guide with tons of tips to get your kids feeling safe to share & more!
If you're interested in ordering 10+ books, please get in touch. 
During the Coronavirus pandemic, please expect delays in the processing of your order and subsequent delivery times. Thank you for your understanding!
Looking for the eBook? Click here.
Looking for our book for married couples? Click here.
Looking for our book for engaged couples? Click here.
Customer Reviews
Write a Review
Ask a Question
Filter Reviews:
book
chance
age range
back
questions
Marriage365
kids
family
husband
hands
06/01/2020
Jasmine P.
United States
I recommend this product
Amazing!
I purchased this book on a whim after brainstorming ways to bring my family closer. To my surprise my 8 and 6 year absolutely love it! The questions vary and are easy enough for them to answer without having to go into elaborate detail about their answer. I was very pleased with how stupidly simple the questions are, not in a bad way, but more in the "huh, well I never thought of that" kind of way. I cannot wait to get the rest of the family in on these questions and read the couple book with my husband.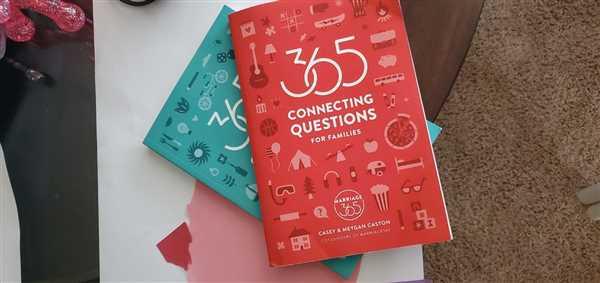 05/15/2020
Melissa A.
Canada
I recommend this product
Bright Spot in Our Family's Day
This book has been so amazing for our family! My daughters love it and look forward to these questions. We often ask them while we are eating dinner together. It's great to see their perspectives and personalities come out in their answers.
04/09/2020
Tricia K.
United States
I recommend this product
Such a great book!!
I love how this gets the conversations started everyday ..... so many topics!! Love it!!
04/09/2020
Anonymous
United States
I recommend this product
Great for the family!
It's so great to have another excuse for conversation at the dinner table besides how was your day. My kids look forward to it every night after dinner! I would highly recommend this to everyone:)
03/31/2020
Anonymous
United States
Simply Amazing!
I absolutely love this book as well! I struggle with finding topics for my usually quiet kids and these questions lead to plenty of thoughtful and intriguing conversations! Thank you!!